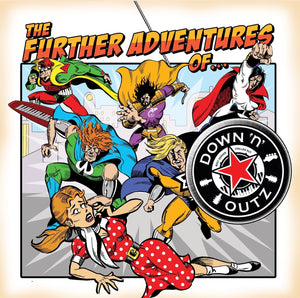 Joe Elliott of Def Leppard and London's own Quireboys formed the Down 'n' Outz after being asked to open for Mott the Hoople at London's Hammersmith. Their love for the band inspired them into recording "My ReGeneration" (2010), an album full of Mott the Hoople related tracks. The album was well received including a nod from Rolling Stone:
"My ReGeneration is no mere tribute album. It is exuberant classic-rock scholarship." - Rolling Stone:
They had so much fun the first time, they've decided to do it again! Produced by Elliott and Def Leppard Co-producer, Ronan McHugh, The Further Adventures of… contains 12 tracks, 11 of which are Mott the Hoople songs, continuing to prove their reverence for this great band.

Rock And Roll Queen 

Stiff Upper Lip 

Marionette

One Of The Boys 

Whizz Kid 

Violence

The Journey

Drivin' Sister 

The Original Mixed-Up Kid

Crash Street Kidds

Broadside Outcasts

The Revenge of the Shipwrecked Hedgehog