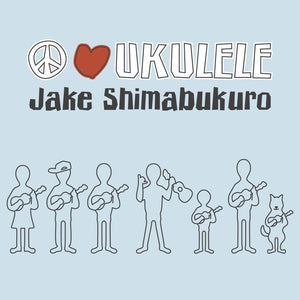 As his stature grows in the music world, Shimabukuro continues to impress and stretch boundaries with each new release. While all the tracks on "Peace Love Ukulele" were arranged as solo uke pieces, he utilizes a band for the majority of the songs, adding some orchestral touches on songs like "Five Dollars Unleaded" and marching drums on "Go for Broke," a stirring tribute to Japanese American soldiers in World War II. "So many of those soldiers were based in Hawaii," he says. "I wanted to show my appreciation for what they did as a Japanese American, I have a better life today because of the sacrifices they made. "Go for broke" was their motto, which means to risk everything on one great effort to win big."
It also showcases Jake's lightning-fast skills and dexterity with the ukulele ("Bring Your Adz"), some humor ("143 (Kelly's Song)," a title based around a pager code for "I love you") and a couple of choice covers, including Leonard Cohen's "Hallelujah" and Queen's "Bohemian Rhapsody," the only solo ukulele performance on the album.
"Covers on the ukulele are hard!" Jake says. "You can simplify any song, but to actually come up with an arrangement that's respectful to the composer is quite a challenge. With "Bohemian Rhapsody," I tried to differentiate the vocal line from the piano line and guitar. It was tough, but really paid off. When I play it live, people usually just shake their head and laugh."
Track Listing
| | |
| --- | --- |
| | |
| 1. 143 (Kelly's Song) 2011 | |
| 2. Bohemian Rhapsody | |
| 3. Bring Your Adz | |
| 4. Boy Meets Girl | |
| 5. Go For Broke | |
| 6. Trapped 2010 | |
| 7. Variation On A Dance 2010 | |
| 8. Pianoforte 2010 | |
| 9. Five Dollars Unleaded 2010 | |
| 10. Ukelele Bros. | |
| 11. Hallelujah | |
| 12. Bohemian Rhapsody - Live Version | |