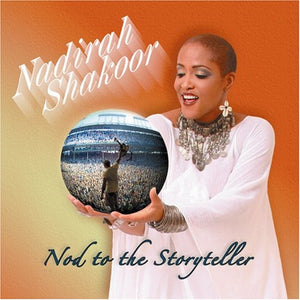 What do Al Jarreau, Madonna, Arrested Development, Janet Jackson & Jimmy Buffett have in common? The soulful vocal styling of Nadirah Shakoor!
"Nod To The Storyteller" is Nadirah's tribute to Jimmy Buffett, who for the last 13 years has featured her as part of his show. Buffett fans (affectionately know as Parrottheads) have come to know and love Nadirah and claim her as their own. The CD includes Nadirah's interpretations of popular Buffett songs like "Margaritaville" and "Volcano." Also notable are two duets she sings with him including "Son of a Son of a Sailor" and Eric Clapton's "When the War is Over."
"Nod To The Storyteller" was recorded using three different bands, one of which is led by acclaimed slide guitarist, Sonny Landreth. The producer, Mac McAnally, a recent inductee into the Nashville Songwriters Hall of Fame, contributed two songs to the project and a Grammy Award winning songwriter/percussionist, Ralph MacDonald, contributed "Creola," a collaboration with Buffett about family life on the Louisiana Bayou.
Nadirah Shakoor has been a star behind the stars for many years. "Nod To The Storyteller" is an eclectic musical journey. With its release, Nadirah's own star shines brightly for the world to see.
Track Listing
| | |
| --- | --- |
| | |
| 1. Creola | |
| 2. Why You Wanna Hurt My Heart | |
| 3. Makin' Music For Money | |
| 4. La Vie Dansante (featuring Tina Gullickson) | |
| 5. Give Henry the Receipt | |
| 6. Let Him Go | |
| 7. Frenchman For The Night | |
| 8. Margaritaville | |
| 9. Open (featuring Mac McAnally) | |
| 10. Son Of A Son Of A Sailor (featuring Jimmy Buffett) | |
| 11. Volcano | |
| 12. When The War Is Over (featuring Jimmy Buffett) | |
| 13. People Call Me Jesus | |
| 14. Wonder Why We Ever Go Home | |