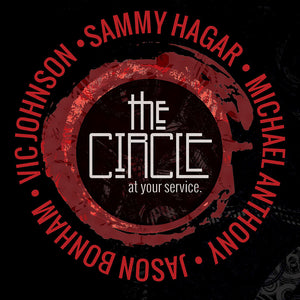 Sammy Hagar and The Circle announce their debut live double album "At Your Service" set for world-wide release on May 19th, 2015.
Sammy Hagar, Michael Anthony, Jason Bonham, & Vic Johnson's debut album live from their critically acclaimed 2014 tour. "At Your Service" captures these 4 artists jamming on 19 legendary tracks that span more than 40 years of rock music history.
The Circle features Michael Anthony, the renowned rhythm section bassist who has played with Sammy for the last 30 years in bands including Van Halen and Chicken Foot. Vic Johnson, Hagar's longtime guitar virtuoso who seemlessly shreds through his own, as well as some of rocks most iconic guitarist's riffs. Jason Bonham, the acclaimed drummer and son of iconic Led Zeppelin drummer, John Bonham.
Disc: 1
There's Only One Way To Rock (live)
Rock Candy (live)
Good Times Bad Times (live)
Poundcake (live)
I Can't Drive 55 (live)
Mikey Bass Solo (live)
When It's Love (live)
Whole Lotta Love (live)
Little White Lie (live)
When The Levee Breaks (live)
Disc: 2
Jason Drum Solo / Moby Dick (live)
Why Can't This Be Love (live)
Finish What Ya Started (live)
Heavy Metal (live)
Vic Guitar Solo (live)
Best of Both Worlds (live)
Right Now (live)
Rock and Roll (live)

Dreams (live)